GuernseyTingle President Tom Tingle was recently honored by the James City County Board of Supervisors for his 16 years of dedication to the Economic Development Authority (EDA).
During a commendation presentation held by the James City County Board of Supervisors, Tom was recognized for his leadership as both Chairman and Vice Chairman during four terms as an EDA director and for faithfully representing the EDA on county initiatives such as the Business Climate Task Force and the Comprehensive Plan Steering Committee.
Tingle also provided leadership during the establishment of the Greater Williamsburg Partnership and its Launchpad business incubator, equipping entrepreneurs and startups with the amenities, counseling and services necessary to grow a successful business.
He retired from the EDA on June 22, 2021.
"It's been an honor to serve with this board and boards before it," said Tingle upon accepting the commendation. "I would encourage this board to continue to keep economic development in the forefront, as it is extremely important to the county. You've got a great staff, with a very talented and diverse group of businessmen and women on the EDA now, so put them to work."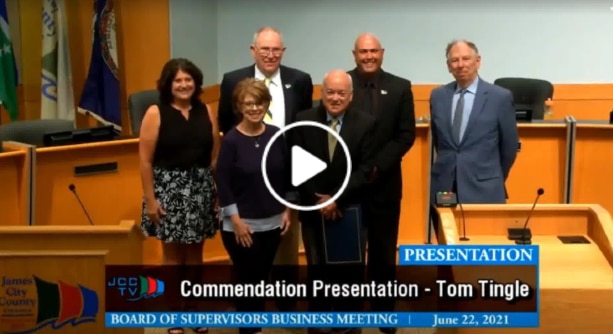 In addition to the James City County EDA, Tingle has served on a number of economic development and civic organizations across the region, including as chair for the YMCA of Virginia Peninsulas, and as past president of Virginians for High-Speed Rail.
The commendation also recognized Tingle for "devoting countless hours of his time with exemplary service, an unwavering commitment and willingness to understand and respond to the concerns of the businesses of James City County while remaining an instrumental part of the betterment to the County through continued business development, his community spirit and acting as an agent of change bringing respect, honor integrity."
Tingle joined GuernseyTingle in 1986 when it had fewer than 10 employees. The firm has nearly tripled in size under Tingle's leadership and philosophy which stresses the design-build project delivery method and a spirit of collaboration within the company and beyond.
« Back to news & insights