January 18, 2019
My Dad was like a magician.
He could take almost any old thing and make it new again. Growing up, family weekends were spent scouring antique stores and estate sales looking for a discarded treasure that he could work his magic on. As a child, I would often look at a rusted icebox or vintage washing machine and not be able to imagine the new life it would have holding art supplies in the house or cat food on the porch. He could work his magic on almost any variety of discarded object. One weekend we drove an hour or so to pick up a 1965 Ford F100 that he would buy, restore, and sell. I couldn't believe my eyes when we drove into the middle of the woods and came upon a long since abandoned shell of a truck, covered in rust and vines. I couldn't imagine how he could make this run and function again. We hauled the truck home, and sure enough after weeks spent in his workshop, sanding, cutting, welding, and painting, the truck was like new again. He did manage to leave the "I Love New York" sticker intact on the back glass. I remember when a burly, bearded man came to buy the truck, he mentioned that he was from New York and loved the sticker as well as the truck. My Dad had made magic again.
I think that the first step to being a magician starts with a vision. That's what my Dad had. He could see something in nothing. Where others would pass by a neglected, discarded object, he would stop and imagine the new life it could have. Always hopeful that he could make the thing churn or run or sing like it once had. Part of the visioning is knowing enough about the tasks that lay ahead that you are confident that the result can be accomplished. My Dad could cut, carry, bend, weld, or paint just about anything. He had the right tools, but more importantly, he had the knowledge to use the tools. Even if he didn't have the right tool, he could somehow invent a rig or a jig to make something work. The result was always complete and polished. Not knowing the object's origins, someone looking at the finished product could never imagine that an icebox, washing machine, or truck, could have started with such humble beginnings. Without a vision, many of these objects would have been left to continue their slow demise.
I feel the same way about neglected, abandoned buildings. When I have come upon the ruins of an old theater that has since been taken over by mold, mildew, and decay. Or an abandoned gas station with no roof and that barely has its outer walls intact. I cannot contain my excitement for the potential within these structures to become new again. I vision a new community theater for film and the performing arts. I vision a new donut shop that can serve an underserved community and become a place to gather. I can see the steps that it will take to get to these ends. Slow steps that are sometimes forwards, sometimes backwards, but always marching towards the end vision. Developing plans, meeting with the client, understanding the community being served, incorporating building systems where none exist, finishing out the space with light and color. It's all part of the magic. Part of what isn't seen when a building is finished, is where it began. With a vision. A hope that an eyesore can become a thing of beauty. I love making magic, just like my Dad.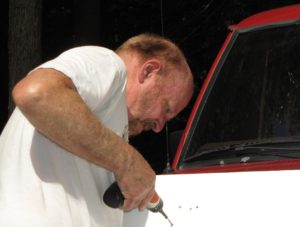 « Back to news & insights